Colored Stone Magazine January/February 2010 last issue
By David Federman. Editor-in-Chief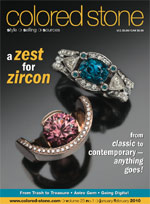 Ones of a Kind
Heaven on Earth
Take a night-sky background, intersperse it with light green-orbed patterns, and you have a recipe for
an other-worldly new gem mineral called, appropriately, Nebula Stone.
Ron and Karen's calling took the form of a Gem Discovery - "The only one known for it's kind."
"Thanks for sending the stones.
I intend to have out photographer take some shots, hopefully in time for the 9/22 issue of GemMail.
But no matter what, you will be featured as that issue's "mystery gem," with more articles to come...You've got a great stone there...
They are absolutely beautiful. The orbs remind me of Van Gogh's starry sky paintings. "
David Federman
Photos of Nebula Stone "Circle of Life Pendant", Nebula Goddess Pendant, Nebula Kissing Moons Pendant,
Nebula Stone Palm Stones, Nebula Stone Lucky Turtle Shell, Nebula Stone with Walrus Fossilized Ivory earrings.
Nebula Stone wire wrapped Pendant.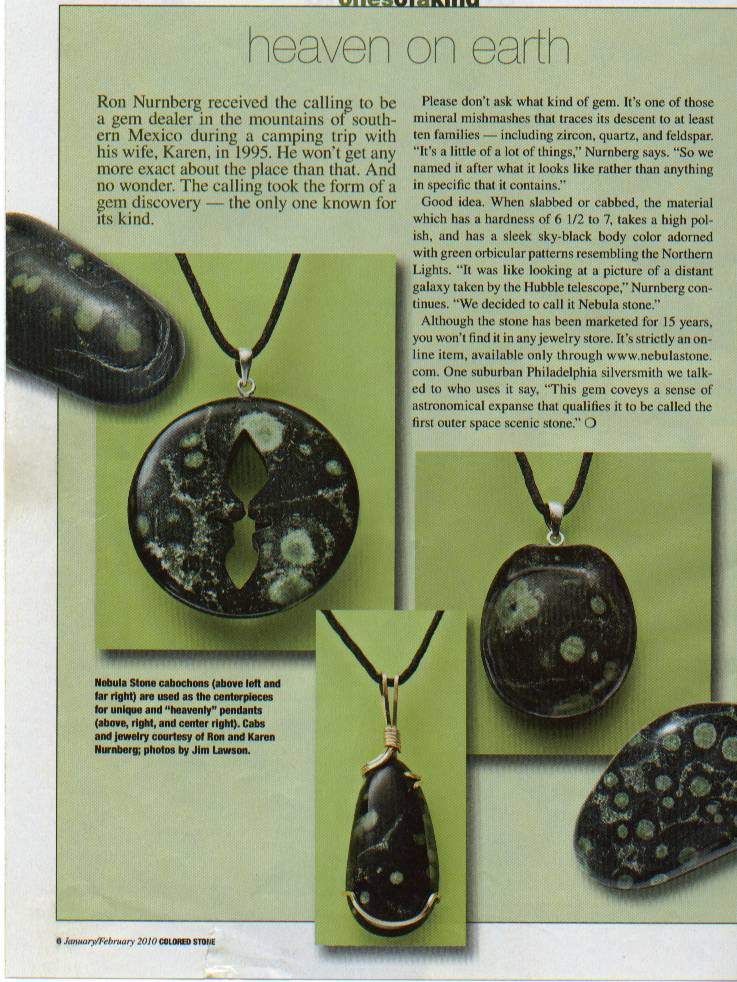 "This Gem conveys a sense of astronomical expanse that qualifies it to be called the first outer space scenic stone."
"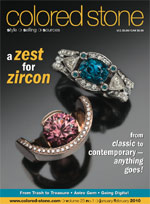 Ask about Gift wrapping and sending direct to recipient!
* We are not set up for online shopping cart buying... so please call or E-mail us for a purchase.
The Dalai Lama and Carl Sagan
Newly updated: The Discovery of Nebula Stone
"The Enchantment of Nebula Stone"
Large Nebula Stone Gemstone Palmstones
* NEW Nebula Stone Nuggets Tumbled Stones
* NEW Large Exquisite Nebula Palm Stones High graded
Starburst Nebula Palm & Pocket Stones
Nebula Stone Carvings
Nebula Stone Gemstone Mineral Spheres
The Nebula Skull Crystal Skull
Nebula Stone Gemstone Crystal Skulls
Alien Skull Stone Supernova Discovery
Nebula Stone in The Book of Stones
Nebula Stone by JaneAnn Dow- Mayan Past
Nebula Stone Review by New Age Retailer
Melody's note about our Discovery
Metaphysical...Published Articles about Nebula Stone
Colored Stone January February 2010
Nebula Stone Rock and Gem Magazine Story
Nebula Stone Gemstone Knife Handle in the making
NEW Chocolate Galaxy
Indiana Jones and the Kingdom of the Crystal Skull
* We are not set up for online shopping cart buying... so please call or E-mail us for a purchase.
"Just like the Nebulas, Just like Ourselves
Everything is Reborn and Continues"
If you wish you may share our link with others, just copy and paste www.nebulastone.com into your email.
Privacy: We do not give, sell, trade nor share any of your info!! It's your stuff.
Color and appearance may vary ending on your monitor and settings.
Crystals and Stones are not a substitute for medical treatment.
Nebula Stone makes no claims, and is not intended to diagnose, treat, cure, or prevent any disease.
If you need help in any way please consult your doctor or other health care practitioner regarding health issues.
Copyright© 1995-2019 Nebula Stone™
the sole source of all Nebula Stone™ or related Nebula type stones.
All rights reserved.